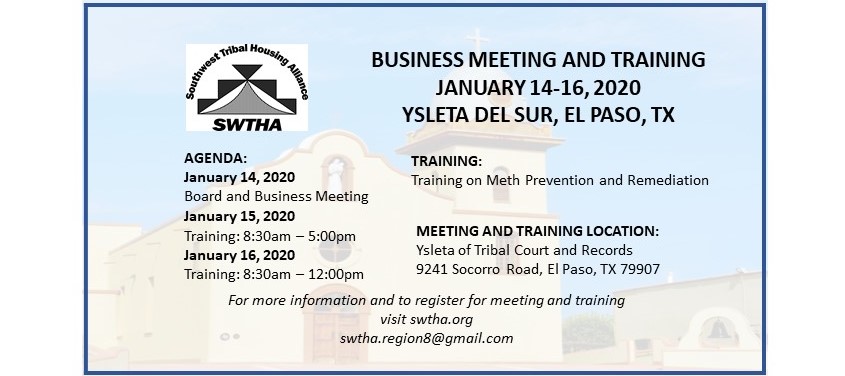 SWTHA Tri-Annual Meeting and Training
Mark your calendar for January 14-16, 2020. The next SWTHA meeting will include training and will be hosted by Ysleta Del Sur, in El Paso, TX.
Visit this page soon for more information!
Documents from previous meetings are posted on the Previous Events page.
SWTHA Triannual Meeting and Training – January 14-16, 2020

January 14, 2020
8:30am – 11:30am: Board Meeting
11:30pm – 12:30pm: Lunch Presentation
12:30pm – 5:00pm: Business Meeting
January 15, 2020
8:30am – 5:00pm: Training
12:00pm – 1:00pm: Lunch Presentation
January 16, 2020
8:30am – 12:00pm: Training
The  training will be a subject that has been requested by the members and is a serious problem, Meth Training and Remediation. The training will provide information needed to protect and serve your community.
More information coming soon.
Please check back soon for hotel reservations. We are currently working on a contract for a discounted rate.
Email swtha.region8@gmail.com for more information. 
Ysleta del Sur Pueblo
Department of Tribal Court and Records
9241 Socorro Rd.
El Paso, TX 79907